DOJ Refuses to Charge NYPD Officer Involved in Death of Eric Garner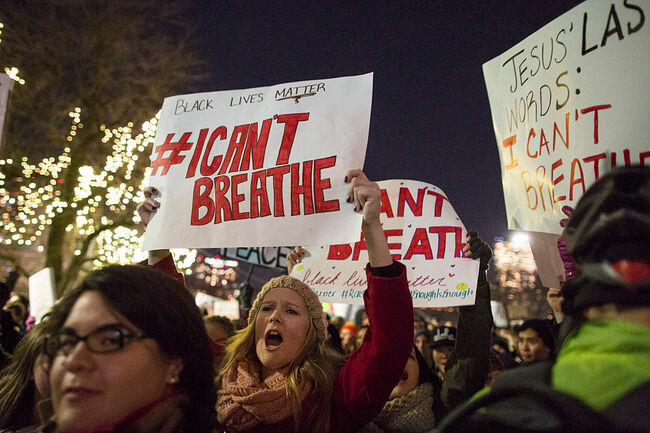 The Justice Department will not bring federal charges against a New York City police officer involved in the death of Eric Garner, multiple outlets reported Tuesday morning.
The agency's decision comes one day before the statute of limitations was set to expire against Officer Daniel Pantaleo, who was involved in the arrest of Garner for selling loose cigarettes outside a Staten Island convenience store. During the incident, Garner was confronted by officers and when he refused to be handcuffed, officers took him down, with Pantaleo holding Garner around the head and neck.
Video shot by a bystander caught the scuffle as Garner cried out "I can't breathe," at least 11 times before falling unconscious. He later died. The city examiner listed the 43-year-old's cause of death as "compression of neck (choke hold), compression of chest and prone positioning during physical restraint by police." Pantaleo's lawyer and the police union have categorically denied the officer used a chokehold, which is prohibited under NYPD policy. The officer maintains he used a legal takedown maneuver known as the "seatbelt."
Pantaleo was assigned to desk duty following Garner's death. A 2017 review by the city's Civilian Complaints Review board found Pantaleo used excessive force. However, a state Grand Jury refused to bring criminal charges against the officer. The department brought Pantaleo up on departmental charges earlier this year, however, an administrative judge has not yet ruled whether he violated policy. He could be dismissed, but the final say rests with Police Commissioner James O'Neil.
Garner's death at the hands of a white police officer became a rallying point for police reform activists. Wednesday is the fifth anniversary of Garner's death and the final opportunity for the Justice Department to bring civil rights charges before the statute of limitations expired.
Photo: Getty Images